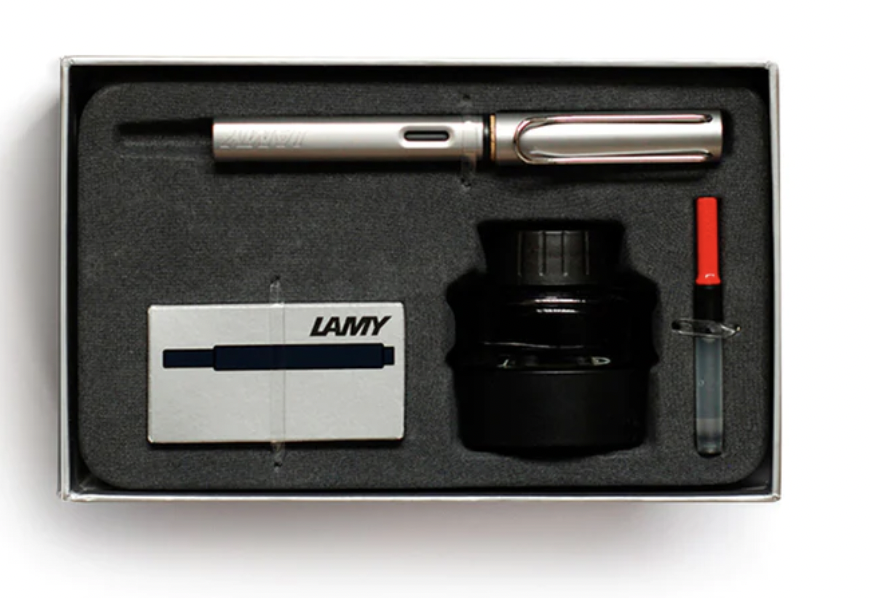 Lamy Fountain Pen Gift Set
This gift box set is the perfect surprise for lovers of high quality writing instruments.
Comprising a superb LAMY AL-Star fountain pen along with ink cartridge refills plus a LAMY Converter Z 28 and a bottle of ink! LAMY pens make writing a delight.
The LAMY AL-star pen sits at the pinnacle of LAMYs young writing range and is specially designed to aid the writer to develop good penmanship habits, so it makes a wonderful pen for writers of any age. It features a nearly indestructible brass-wire chrome-plated pen clip and a strong, lightweight body and cap as well as an ink window to easily see when the ink requires refilling.
This gift set will invigorate a love of handwriting.
SPECIFICATIONS
1 x LAMY AL-star Fountain Pen - Medium - Graphite, 1 x LAMY Z28 Fountain Pen Converter, 1 x LAMY T51 Ink Bottle in Black, 5 x LAMY T10 Cartridge Refills in Blue
Medium nib
13.8cm long
Made with aluminium, stainless steel, chrome & plastic
Made in Germany. Designed by Wolfgang Fabian