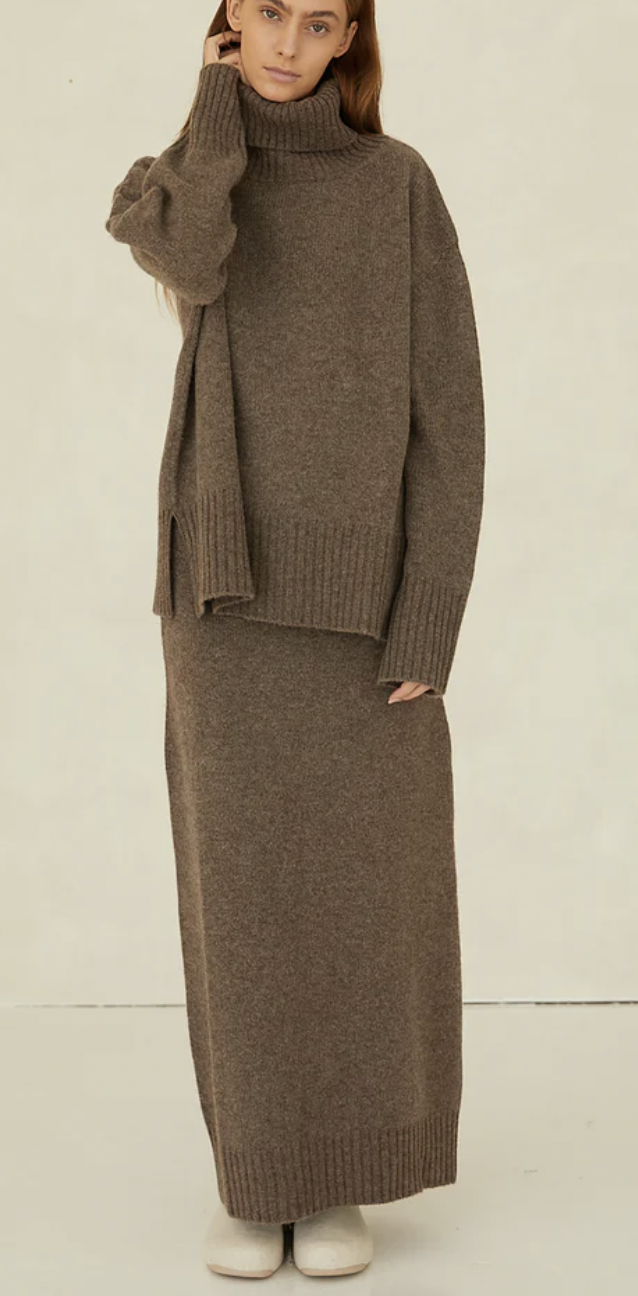 DESIGN

A-line maxi skirt in Ashwood brown with a mid waist that softly drapes off the hips

Designed in Australia, made with love in Nepal. 

FIT

Regular Fit. Our model is 183cm / 6" tall, with an 95cm / 37in bust, a 72cm / 28in waist and 100cm / 39in hips. Our model is normally a size 6.
WASH
Hand wash in cool water. Use a gentle, eco-friendly detergent or wool detergent and avoid harsh chemicals or stain removers, which can affect the colour.
Soak for 5-10 minutes and rinse thoroughly with cool water.
DRY
Roll in a clean towel and gently apply pressure to absorb excess water. Do not twist. Reshape and dry flat, to preserve the fit and shape. Avoid drying in direct sunlight as it may cause the colours to fade over time.
STEAM IRON
Gently steam to remove creases, we do not recommend using a hot iron on delicate fibres.
CARE
Store your delicates in the soft cotton bag that comes with your scarf or garment. Ensure they are securely stored away from pests, mould and mildew. Avoid hanging your knits and hand-loomed pieces as they may become misshapen over time.
REPAIR
Piling is a natural occurrence when wearing soft wool and cashmere fibres and can gently be removed by hand.
Our scarves and garments are handwoven and sometimes it may appear as though there is a hole when actually the warp and weft have slipped apart. This is easily fixed by massaging the spot between your fingers to slide the yarn back into place.
Snagging can easily be resolved by gently pulling the long, loose yarn back inside the garment and tying a knot.
Mending is a wonderful way to preserve the life of a hand-loomed scarf or knitted garment. We recommend darning; the process of sewing over the hole with new yarn thread, in vertical and horizontal strokes.
RECYCLE
If you are no longer getting use out of your garment or scarf you can send it to our upcycling partners at Upparel® where they will either donate or recycle your garment.