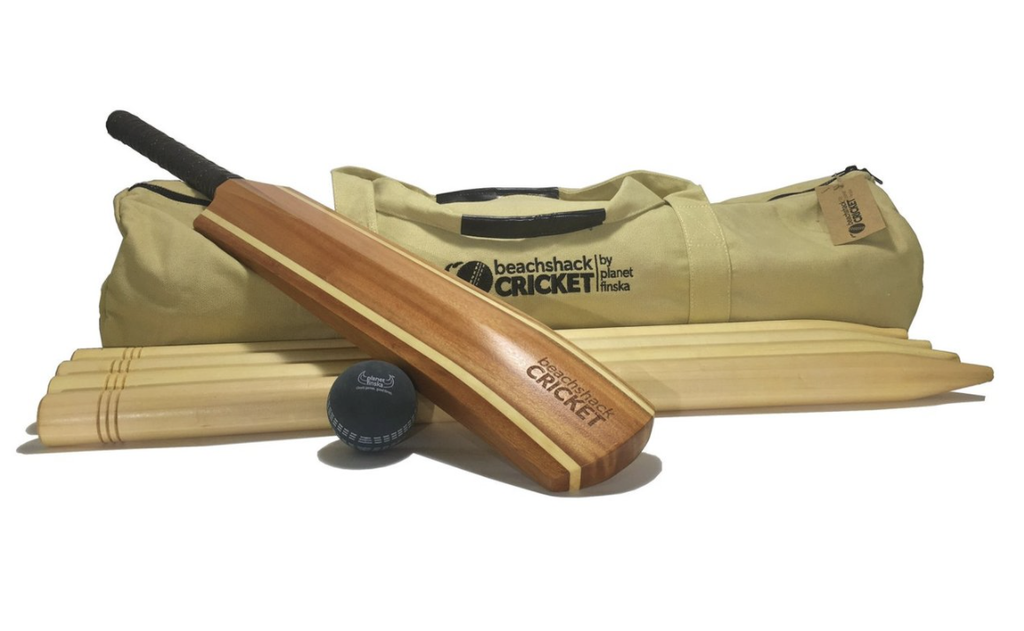 For those who thought beach cricket sets were only ever made from plastic, think again. The design team here at Planet Finska decided enough was enough.  A beautifully designed properly crafted beach cricket set just had to happen.  In a similar vein to our Frescobol sets, we've taken inspiration from old school malibu surfboard designs.
Our stylish bat is crafted from custom designed two tone hardwood.  The bulk of the bat is dark  and we've added lighter hardwood stripes down each side in the spirit of the classic longboard.  The bat is finished in high gloss varnish to protect the timber and enhance the natural colouring of the bat.  The bat is a regulation size 5 bat, perfect for beach cricket.  Unlike plastic cheapies, the bat has plenty of tonk behind it for those big shots and classic diving catches in the deep.  The bat also has a high quality PU leather grip for comfort.
The chunky 40mm wooden stumps have also been honed from a beautiful light hardwood and have a varnish finish.  
Contents, Dimensions & Weight:
1 x Planet Finska Beach Shack Cricket bat (length: 77cm. width 10.5cm)
4 hardwood Beach Shack Cricket stumps (40mm x 76cm)
2 wooden bails
1 x 65mm rubber Beach shack Cricket ball
1 Planet Finska heavy duty canvas carry bag
Weight per set: 3.00kg