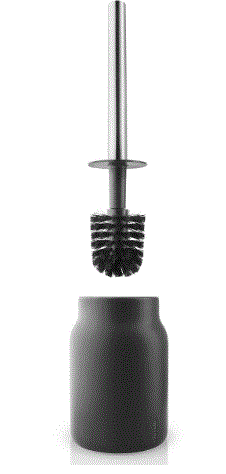 We have run out of stock for this item.
The new Eva Solo toilet brush is made from ceramic and has a practical replaceable brush head. When not in use, the brush hangs in its ceramic holder so it dries faster. When returned to the holder, the brush is covered by a lid and is well-concealed. The design is intentionally simple to facilitate cleaning. The toilet brush is made of matt black ceramic and matches the other products in the Eva Solo bathroom series.

With the new bathroom series from Eva Solo, you decide what to conceal and what to display, while enjoying a touch of Scandinavian luxury in the form of matt black ceramics for your bathroom. The series has everything you need to make your bathroom feel a little less everyday and a little more luxurious. An easy way to create a stringent stylish look in your bathroom.