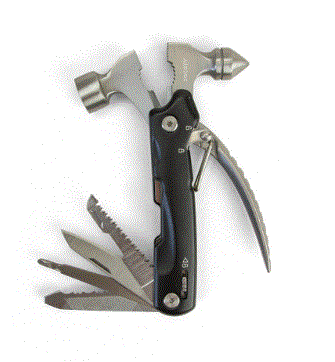 The old English expression "a Birmingham screwdriver" refers to the practice of using a hammer as the only tool for all purposes -and now you can!
9 in 1 tool for everyone from the city dweller to the avid outdoorsman.
It may look like a hammer at first glance but hidden inside you will find tools ranging from pliers and screw drivers to wire cutters and even a bottle opener!
Society Paris elevates functional tools with sophisticated design.
Contains:
1. Hammer
2. Flat nose pliers
3. Regular pliers
4. Wire cutters
5. Glass breaker
6. Screwdriver & nail file
7. Philips screwdriver & bottle opener
8. Knife
9. Saw